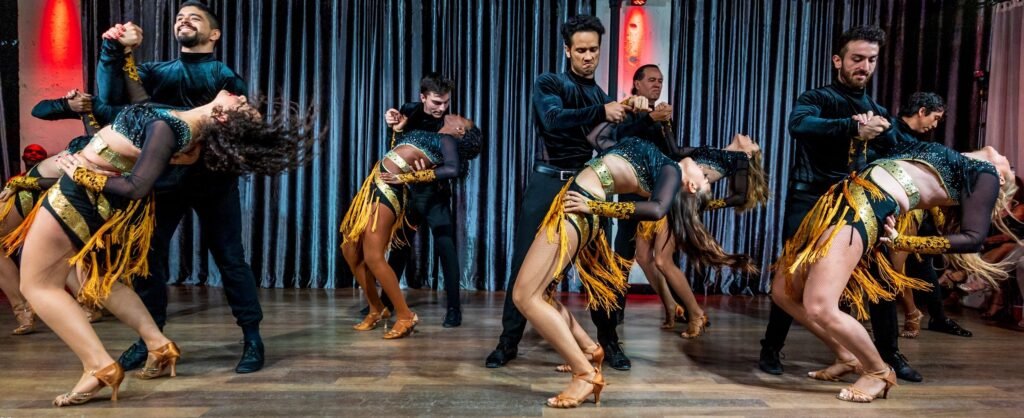 Amateur Dance Team Performance Group
Since November 1999 Sonia, the director of the San Tropez Dance School trains and directs groups of students to perform at school events and who may eventually audition to perform with the professional troupe. In regular rehearsals the members of this amateur troupe start learning an all-Salsa or Bachata repertoire and train in the art of group performance or learning the different styles.
The amateur Dance troupe training program starts every six months and its auditions are open to everyone. It takes time and effort, but working as a team all the members of the new troupe have the opportunity to become great performers. To all of them we wish good luck, and… see you on stage!
The San Tropez amateur troupe has performed at the Los Angeles, Miami, Puerto Rico, San Francisco, Bermuda, Toronto and Montreal salsa congresses for the past 11 years. The dancers of San Tropez have won the admiration of the public from here and abroad. Take this opportunity to become a part of a team that can take as far as your inspirations !!
FAQ
Q. I am eligible to audition?
A. If you have reached the intermediate or advanced level, and are comfortable improvising when you dance socially and have some experience either in demonstrations, exhibitions or any type of performance you are welcome to audition. Any technical training is also an asset.
Q. What happens at the audition?
A. You will be shown a free-style Salsa or Bachata choreography with your dance moves. You will dance this routine in small groups. You will also be required to dance a partnership Salsa or Bachata with the partner (or partners).
Q. Who, and why are Amateur Troupe members chosen?
A. The dancers chosen will be those that in the view of the committee, will best perform as a team. While dance proficiency is important, the ability to work within a team is even more so. The overall attitude of the performer, as well as his/her presence, projection and confidence will be factors in the choices of the selection committee.
Q. Who teaches the Amateur Troupe?
A. The Amateur Troupe is directed by Sonia and taught by herself and Moris help you become the best dancer you can be.
Q. When are the rehearsals? Are there any extra practices?
A. Apart from the Amateur Troupe's weekly 1 hour rehearsals, a minimum of one extra practice is booked during the week at a time agreed upon by the dancers and subject to studio availability.
Q. Where does the Amateur Troupe perform?
A. The Amateur Troupe represents San Tropez at international events as well as local events as well as the Montreal Salsa Convention and the Montreal Bachata Festival.
Q. Are there any other expenses involved?
A. Since the Amateur Troupe represents our school in world wide events. You must also be able to finance your own traveling expenses if necessary. Travel documents (passport / visas/ ID cards) as well as costumes and dance shoes are also your responsibility